Gale Desk
Height Adjustable Desk
Financing available with

Real time decision
Signing up for PayBright financing is quick and easy: just provide some information about yourself and receive a decision in real time so you can buy what you like now and pay later.
Easy monthly payments
Enjoy the simplicity of automatic monthly payments with no hidden fees or surprises. You will see the amount of your monthly payments before confirming your payment plan, so you will know exactly what you need in advance.
How it works
1
Select Paybright during the checkout
Add your items to your cart as usual, and select PayBright as the payment method. You will then be redirected to their platform.
2
Apply online
Answer a few questions with the easy online app. You will get an approval decision in less than a minute.
3
Enjoy your purchase
Once your request is finalized with PayBright, you will be redirected to the DE GASPÉ website to complete your purchase. We process your order as soon as possible.
4
12 easy monthly payments
Make your automatic payments over 12 months, free of charge or interest. You will see the amount of your monthly payment before confirming your payment plan, which will allow you to know exactly what you have to pay and when.
Questions and anwers
What are the payment options?
PayBright will help you set up your convenient, pre-authorized payments via your bank account or credit card.
Who can apply for a PayBright payment plan?
Any Canadian resident who has reached the age of majority (18 or 19 depending on the province).
Can I only pay a part of my purchase with PayBright financing?
PayBright funding is applied to your entire order. To finance part of your purchase, please make two separate transactions with different payment methods.
Can I pay my PayBright balance at any time?
Yes, your balance can be paid in full at any time, without charge or penalty.
I was unable to complete my funding request. An error has occurred. What happened?
PayBright is not able to provide funding approvals to all applicants. This may be due to your credit report information or the inability of PayBright to verify your identity or payment method. For more information, please contact PayBright.
How do I access my PayBright account?
Once your transaction is complete, you will receive by email all the details of your plan as well as the information to create your account. Follow the instructions and access your account HERE. If you have any questions or have problems logging in, please contact PayBright.
I wish to return or cancel my DE GASPÉ order funded with Paybright. What should I do?
Purchases made using PayBright financing are subject to the DE GASPÉ's return policy. All returns will be processed by DE GASPÉ and the balance of your PayBright loan will be reduced or canceled accordingly. If you have already made monthly payments, they will be reimbursed by PayBright.
Other QUESTIONS?
We are here to help. Please contact us at 514 383-4538
*All transactions are subject to approval by PayBright. The estimated amount of the monthly payment excludes taxes and shipping costs.
Turn your workspace into a place of design and productivity with our signature adjustable-height desk: the Gale desk.

At the crossroads between ergonomics, softness with its round corners and solidity. Its modern solid wood top is available in three of the highest quality woods on the market : Walnut, Yellow Birch, White Oak as well as in white and black anti-stain laminate.

With its function for saving your favorite positions, the Gale lets you switch effortlessly from one position to another at the click of a button, making your height-adjustable desk easier to use and enhancing your experience.

The top is made in Quebec, Canada while the bases are produced by the company ESI Ergonomics. Its electric base lets you raise and lower the work surface to alternate your working position throughout the day. Definitely one of our most popular De Gaspé models. Invest in your health and well-being and choose the Gale desk.

Manufacturing lead times between 3 and 5 weeks.

Technical information :
There are two base options:
- the Triumph with a height adjustment range of 17": from 27.5" to 44.5" (including the 1" working surface)
- the Victory with a height adjustment range of 26": from 22.5" to 48.5" (including the 1" working surface). Note that due to the storage unit, the lowest height possible remains 27.5".

- Load capacity of 220 pounds (excluding the top, count 50lbs for our largest solid tops).
- Height adjustment speed: 1.4 "/ sec
- Digital keypad with three memory settings
- Safety anti-collision system
- Adjustable legs
- 8'9" power cord
- "Connect & Lock" system allowing easy assembly
- ESI Warranty: 15 yr. (structural)/7 yr. (mechanical)


For the assembly system of the feet, you can check out the following video :
- Assembly of the legs : video

Other questions? Contact us!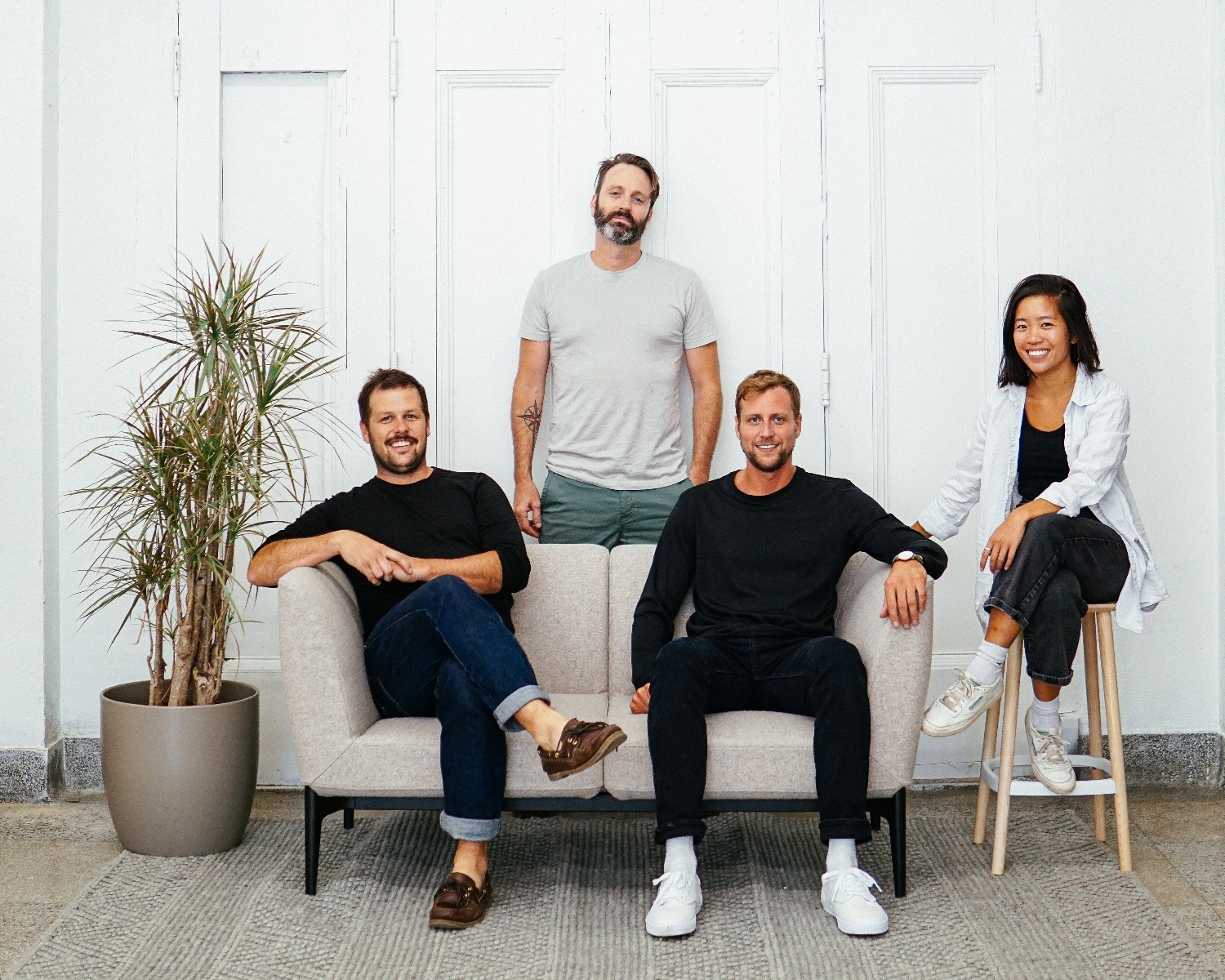 Our Design Team
Each piece of DE GASPÉ furniture, unless otherwise specified, is thought out and designed in-house. It is the result of teamwork. The basic idea can come from one person and then we refine the design and the methods all together.

Everyone is involved in their own way. Olivier, the main designer, is responsible for all modeling. Benoit and Nicolas participate mainly in terms of references, ideation and manufacturing methods while Isabelle takes care of the technical aspect (AKA plans, drawings of manufactured parts, etc.).

Being in control of our product development as well as manufacturing means that we know our products inside and out. We also offer after-sales service, a 10-year warranty, and individually tailored maintenance advice so your furniture continues to withstand the test of time.
Care
As the finishing products we use are among the best in the world, no special maintenance is necessary for your furniture. Simply clean it with water and mild soap and avoid the use of harmful products such as ammonia.

During the first months, the wood naturally changes color. We therefore recommend either leaving the surfaces free or moving static objects from time to time so that the color change, however minor, is as uniform as possible.
Specifications
Show all specs
Country of Manufacture




Canada

Manufacturer




DE GASPÉ

Designer




DE GASPÉ

Main Material




Solid Wood

Origin of Wood




Canada or Northeastern United States

Other Material




Steel

Origin of Steel




Canada

Finishing




Matt Water-based polyurethane Lacquer (3% gloss)

Assembly required




About 15 minutes